The Complete Guide to Hudson Valley Pride Month
The Hudson Valley Pride Kick-Off from Out Loud Hudson Valley & Angry Orchard Walden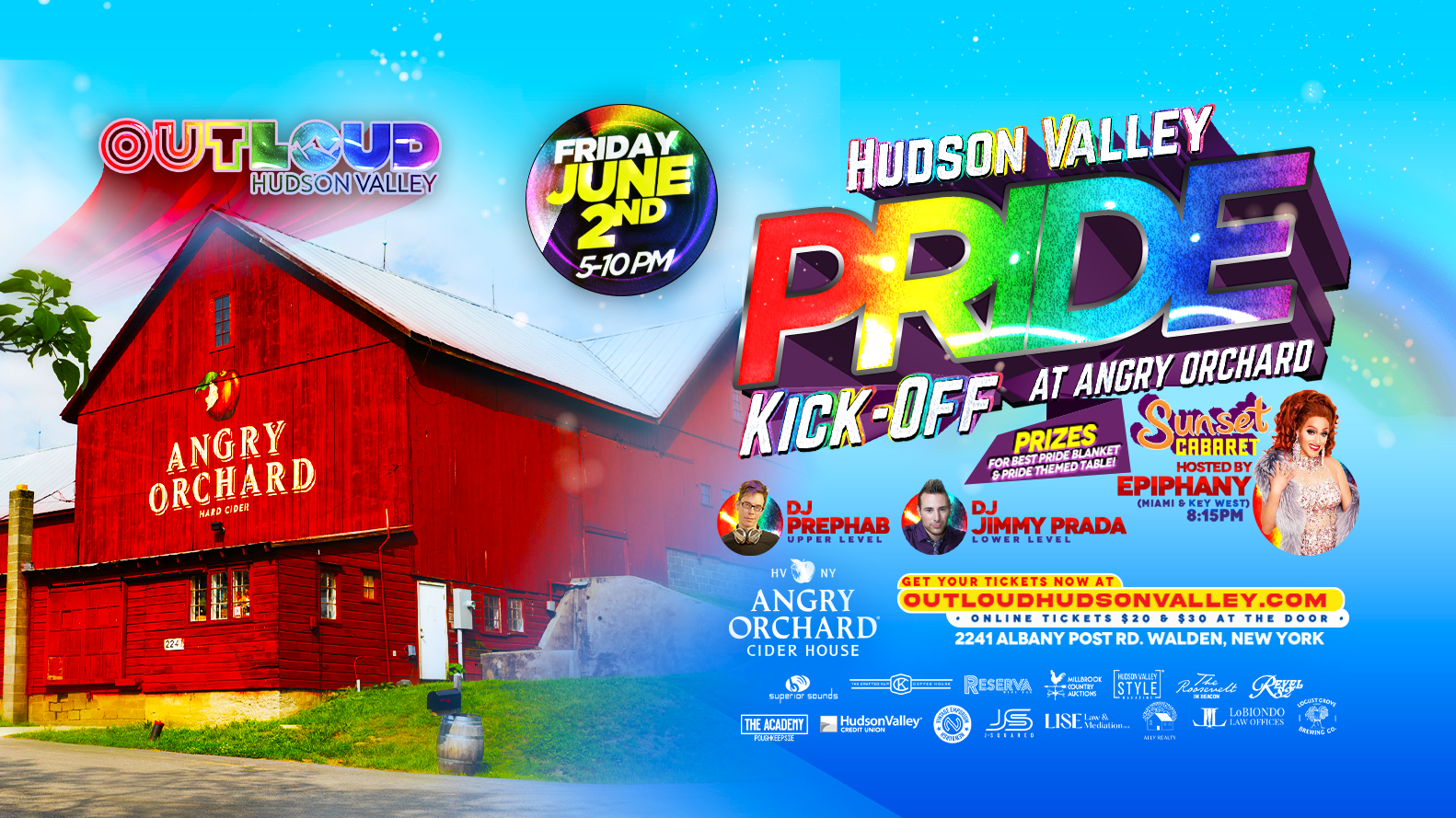 DJ duo Prephab will be in the upper level of the Angry Orchard Cider House, and DJ Jimmy Prada will be on the lower level and back lawn.
Epiphany Get Paid from Key West will be hosting the Sunset Cabaret around 8:15pm as the sun sets over the mountains!. 
Out Loud Hudson Valley is excited to partner with the Village of New Paltz to bring you the 19th Annual New Paltz Pride March & Festival.  
The March will step off from New Paltz Middle School at noon, and the festival in the park will start at 12:30.  Epiphany will be the Grand Marshal of this year's March, and will be the headlining act at Hasbrouck Park!
Music will be provided by DJ duo Prephab, with sound by Superior Sounds.
Vendor spaces and sponsorships are still available.
Please click here for more information on how your business can support.
Volunteers and March participants can register here.
Out Loud Hudson Valley Pride Tea Dances
Our famous summer Tea Dances are back with a fresh new feel for 2023!  At the end of 2022, we sent out our end-of-year community survey.  
The response was overwhelming, and you asked us to put together even more Tea Dances this summer, and to partner with new and unique venues around the Hudson Valley.  
We're answering the call, and our two Tea Dances in June certainly won't disappoint!  
Sunday, June 4 from 4-10pm
We're back at the Hudson House & Distillery for the official Hudson Valley Pride March & Festival after party, immediately following the festival in New Paltz.  
Out Loud's DJ Jimmy Prada will be spinning into the night with headlining act Epiphany performing at sunset.  
Saturday, June 10 from 4-10pm
Join us on the patio at Refinery 51 for the official Poughkeepsie Pride after party!  Music will be provided by DJ duo Prephab!  
Sherry Vine is Everybody's Girl at Revel 32
International Drag Icon (that's a nice way of saying "old") Sherry Vine returns with a brand new show, stuffed full with her signature hilarious, naughty parodies, hysterical videos, gorgeous costumes and more!
Watch her sing NEW parodies of Cher, Lady Gaga, Broadway, Gloria Estefan, Barry White, Eartha Kitt and even The Ramones! 
Sherry Vine is known as one of the world's top comedy queens, and this show will deliver on the laughs and humor.
See what some of the critics are saying:
"Sherry Vine is the Sondheim of drag" – Bianca del Rio
"Like Champagne!" – Thierry Mugler
"That bitch stole my look" – Barbie
ONE NIGHT ONLY – THURSDAY, JUNE 15 AT REVEL 32 IN POUGKEEPSIE.
Doors open at 7pm, show starts at 8!