Top 4 Hudson Valley Restaurants in 2022
The Hudson Valley has long been an attractive option for New York City residents looking to escape the hustle-and-bustle for a weekend away. People often decide to make the quick road trip up to enjoy the sweeping views of the Hudson River, while also indulging in some of the top restaurants in the state!
What is the Hudson Valley known for?
The Hudson Valley is known for its many colleges, like Vassar College, Marist College, Bard College, SUNY New Paltz, and many local community colleges. However, the Hudson Valley is also home to the Culinary Institute of America in Hyde Park! After spending so much time at the Culinary Institute, many chefs have decided to go into business for themselves locally. As a result, the Hudson Valley is quickly becoming known for its cuisine.
Since many of our followers visit from New York City, we decided to give you our recommendations for some of the best restaurants around.
What is the best Farm-to-Table Restaurant in the Hudson Valley?
The Hudson Valley is the farming capital of New York. Because of the Hudson Valley's proximity to so many great local farms, it's no wonder that so many chefs have decided to make the Hudson Valley home! Our top pick for farm-to-table food, however is American Bounty Restaurant at the Culinary Institute fo America.
Their locally sourced menu changes frequently based on what's fresh and in-season. They have your traditional Caesar salad and chopped salads, but in the summer months, you can enjoy their cool Watermelon Panzanella salad, or their Spring Corn Chowder. Their Baby Octopus finished with fingerling potatoes, green beans, and fennel slaw is our top pick for appetizers. For entrees with local ingredients, you can't beat their Sunny Brook Farm Roast Chicken, or their Pan Seared Hudson Valley Duck.
Does New York really have the best pizza?
New York Pizza is often imitated, but never duplicated. Having moved up from New York City, we struggled to find a comparable pie to the iconic slices of New York City.
If wood-fired pizza is your thing, look no further than A-Pizza in New Paltz. They've been firing up pizzas and pastas in their wood burning oven since 2021, and they're our number one choice for pizza in the Hudson Valley. And while many restaurants close at 9 during the week, these guys stay open until 11pm!
Where is the best brunch in the Hudson Valley?
Our undisputed pick for the Best Brunch in the Hudson Valley is Blu Pointe in Newburgh. Less than 10 minutes from the Beacon Train Station, and nestled along the Newburgh Waterfront, Blu Pointe is home to Executive Chef Scott Rackliff. Scott, who worked along world renowned chefs such as Daniel Humm, Daniel Boulud and David Burke, also competed as a contestant on The Food Network's Chopped last year.
But why is Blu Pointe's brunch so fantastic? The Hudson Valley's ultimate brunch experience is an all-you-can-eat buffet, but not the kind you're probably used to. This buffet boasts your typical dishes like baked goods, scrambled eggs, yogurt parfaits, buttermilk fried chicken and Belgian waffles, but it also features made-to-order dishes like omelettes and Eggs Benedict. If you're still hungry, check out their selection of cold salads and appetizers, along with a Prime Rib and Honey Glazed Ham carving station.
And if that's not enough, they have additional hot entrees, an Italian station and a wild selection of petite desserts and pastries all prepared in-house. And don't forget their shellfish towers, or the Blu Pointe Signature Bloody Mary, made with Stoli Vodka and their house-made Clamato Juice, and finished with a Colossal Shrimp.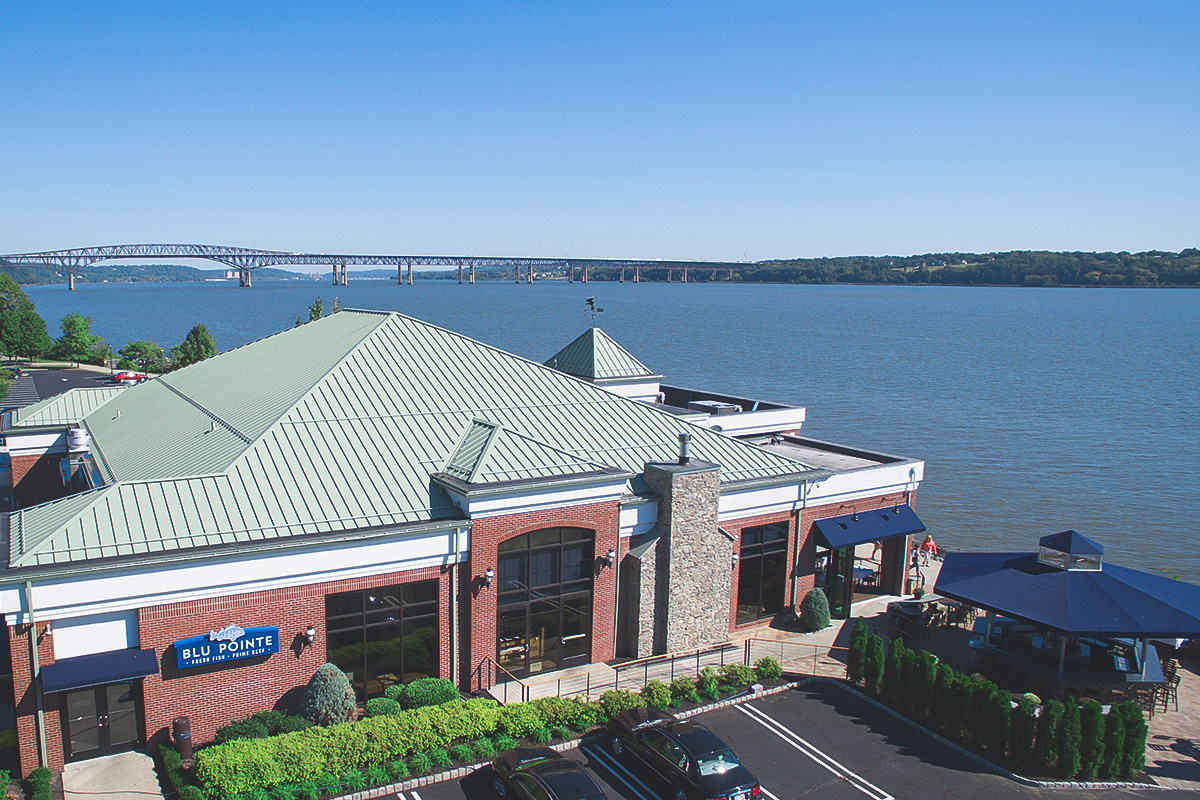 Where are the best craft cocktails in the Hudson Valley?
Great cocktails can be very hard to find in the Hudson Valley. With many places serving up craft beers and local wines, cocktails are often overlooked in some of the fine dining establishments. Our pick for craft cocktails is The Roosevelt Bar, which also has "gay nights" on Tuesdays and Fridays, but it's a local hangout every night of the week. They also have live music occasionally on the weekends.
What's great about The Roosevelt Bar is their drink menu. Their menu includes fabulous options with top-shelf, craft liquors, which are paired with fresh fruits and fresh-squeezed juices. If you're hungry, The Roosevelt Bar is located in the Hudson Valley Food Hall in Downtown Beacon, which has great food options serving small plates.